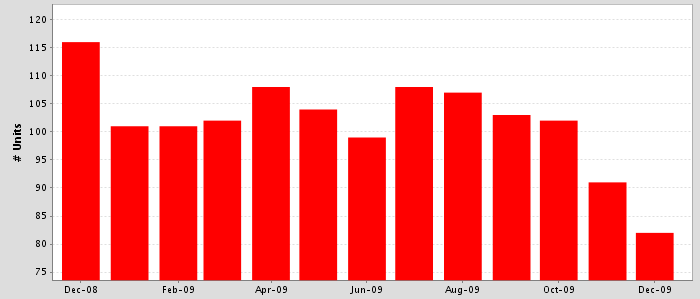 Overall, Grover Beach is experiencing the same reduction in available homes for sale as other markets on the Central Coast of CA. Even though less inventory means less competition, many sellers are reluctant to sell at today's prices, so they are sitting on the sidelines. Comparing December 2009 to December 2008 levels (as depicted in the graph above) — there were 115 units for sale in December 2008, and this December there were only 82. Keep in mind, that buyers were still experiencing bidding wars for foreclosures in Grover Beach in 2008 — and in 2009 there were even fewer homes for sale.
In 2009, there were 125 homes and condos sold in Grover Beach. 91 homes and 34 condos/PUDs. Only five of those sales were estate/probate sales. The average sale price for homes and condos was about $337,000, with 82 days on market and $241 per square foot paid. When looking just at single family homes the average is slightly higher at about $347,000, 91 days on the market and $251 per square foot paid. Condos and PUDs averaged sales prices of about $308,000 with 59 days on market and $212 per square foot.
Approximately 44% of Grover Beach sales were foreclosures or pre-foreclosures last year.
There were 34 bank owned foreclosure sales, and 21 closed short sales. REOs (foreclosures) averaged only 38 days on the market, $202 per square foot and a sales price of about $266,000. Short sale averages were notably higher — list prices for shorts were $326,000 and the sales prices averaged $333,000 at $231 per square foot, after 82 days on the market. So, this means that either short sales were being bid up past their list price, or that banks were countering strongly with short sale buyers to insure those offers were at market value. Days on market are a different story for short sales as they include the time period for the bank to approve the short sale.
Overall, at 125 homes sold, the number of sales is slightly higher than the 120 homes sold in Grover Beach in 2008.
Also, the percentage of foreclosure related sales is up from 37% in 2008 to 44% this year. The average selling price in 2008 for a home in Grover was $429,000 and it is now at $347,000, which is a considerable drop. In 2009, the least expensive sale was a 2 bedroom, 1 bath foreclosed condo on Baden which sold for $129,900, and the most expensive sale was a 2700 square foot, 5 bedroom, 3.5 bath home with a detached guest home, also on Baden that sold for $635,000.
If you are interested in buying or selling a home in Grover Beach, I can provide you with additional information about this market. Please call me at (805) 878-9879 to schedule a consultation today. You can also search for properties on my websites: www.iLoveGroverBeach.com, and www.CentralCoastRealEstateSearch.com.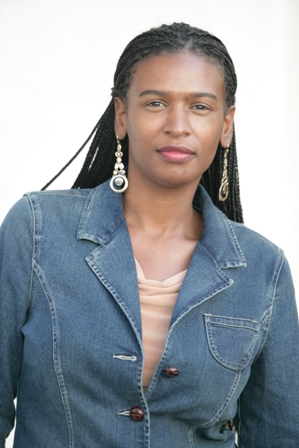 Tni LeBlanc, JD, M.A., e-PRO
Mint Properties, Broker/Owner
(805) 878-9879, tni@MintProp.com
www.iLoveGroverBeach.com
www.SellMyGroverBeachHome.com
www.CentralCoastRealEstateSearch.com
*Based on the information from the Central Coast Regional MLS. Neither the Association, the Multiple Listing Service, or Mint Properties guarantees or is in any way responsible for its accuracy. Data maintained by the Association or its MLS may not reflect all real estate activity in the market.